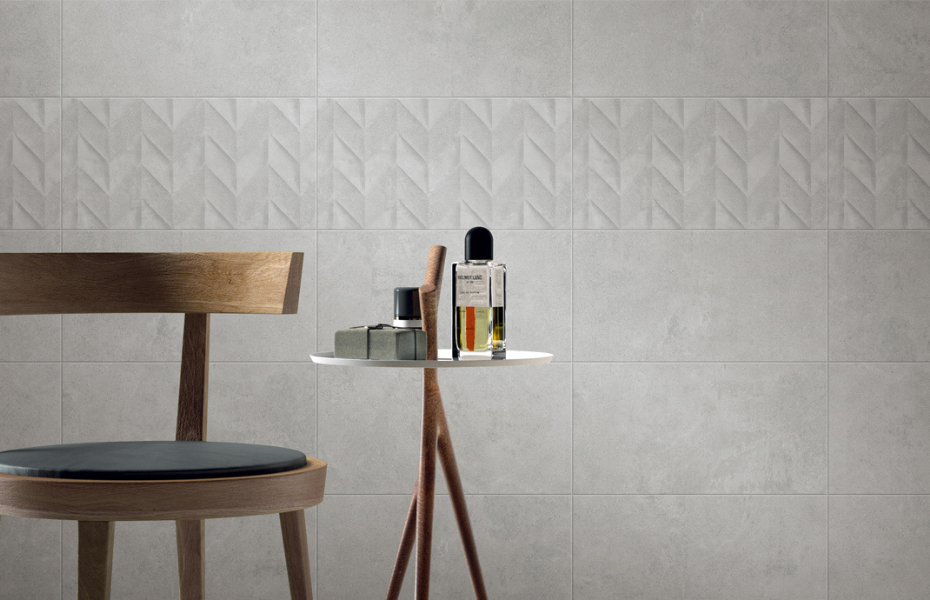 Bathroom tile trends help renovators achieve extraordinary bathroom designs. Tiles are not for waterproofing the walls and floors anymore. It's also used to make bathrooms homey, unique, and stylish. This makes the process of selecting tiles harder for most homeowners. Not to mention the thousands of options out there, which makes this task more daunting. Let's make it easier for you. Here are several tile trends that took the world by storm in the previous years. These never failed to wow people, which is why people still want them in their bathrooms:

Concrete Look Tiles
Downtown > https://designtiles.com.au/products/downtown/
We love concrete tiles because of its durability and understated sophistication. A concrete look tile offer's no sealing and no maintenance and is ofcourse non-porous! Its neutral colour serves as a background of modern bathroom fittings and fixtures. It's also strong and edgy.  To soften it, include natural elements such as timber and stone. It'll give you a bathroom with an Earthy flair.
Today's concrete tiles boast new textures and patterns that homeowners find appealing. Every year, tile manufacturers come up with something interesting. Explore the world of concrete tiles and you might find the look that you're aiming for. See > https://designtiles.com.au/product-category/floor-tiles/
Herringbone or Chevron Tiles
Advanced tile technology lets us enjoy new tile designs, texture, colours, and patterns. We even have porcelain tiles that imitate natural stones and timber. Thus, you're not limited to subway tiles if you want herringbone patterns in your bathroom. Try this arrangement using other rectangular-shaped tiles. You might end up with a pleasing wall or floor design. Also, opt for using a darker colour grout to let each piece of your herringbone tile stand out a little more. 
Source: Smarter Bathrooms+ / Houzz
See > https://designtiles.com.au/product-category/wall-tiles/
Patterned Tiles
Opting for bold and decorative tile patterns is the easiest way to go. Patterned tiles, Spanish tiles, Moroccan tiles, or encaustic tiles — all of it will work brilliantly in the bathroom like bathroom tile. Why? Because the creative shapes and intricate design of these tiles draw the eye. It's an effortless bathroom feature. The best part? You can recreate this design in any part of the house. For instance, on a second bathroom found in the upper floors of your house. When working with patterned tiles, it is important not to interrupt the design. Lay the tiles properly and use colours that complement the tile's design.
Milan > https://designtiles.com.au/products/milan/
3D Tiles
If you want your bathroom walls to come to life, consider using 3D tiles. 3D tiles are same as bathroom tile. This will wow your senses, especially when paired with awesome lighting. We're sure that you'll find them irresistible.  
Mayfair Fishbone > https://designtiles.com.au/products/mayfair-fishbone/

Brickwork
Exposed brick is a lovely feature, but it's not great for wet spaces. It's a challenge to clean and maintain them. Good thing there's porcelain tiles which perfectly emulates the raw and rough brickwork. It solved the problem and allowed homeowners to enjoy rustic bathrooms.
London > https://designtiles.com.au/products/london/
Thanks to technology, we're not limited to the tiles that we can use in bathrooms.  The impractical choices for wet areas before are cleverly used in the bathrooms today. We'll see a lot more exciting designs before this year ends. Don't be afraid to explore the possibilities of having them at home.

Author's Bio:
Charlene Ara Gonzales is the design writer in Superdraft's team of architects in Sydney. She's an interior geek and guilty of obsessing over architecturally-sound houses. More than that is her immense passion for working with people and helping them build their dream homes. Follow their team on Facebook, LinkedIn, and Instagram.