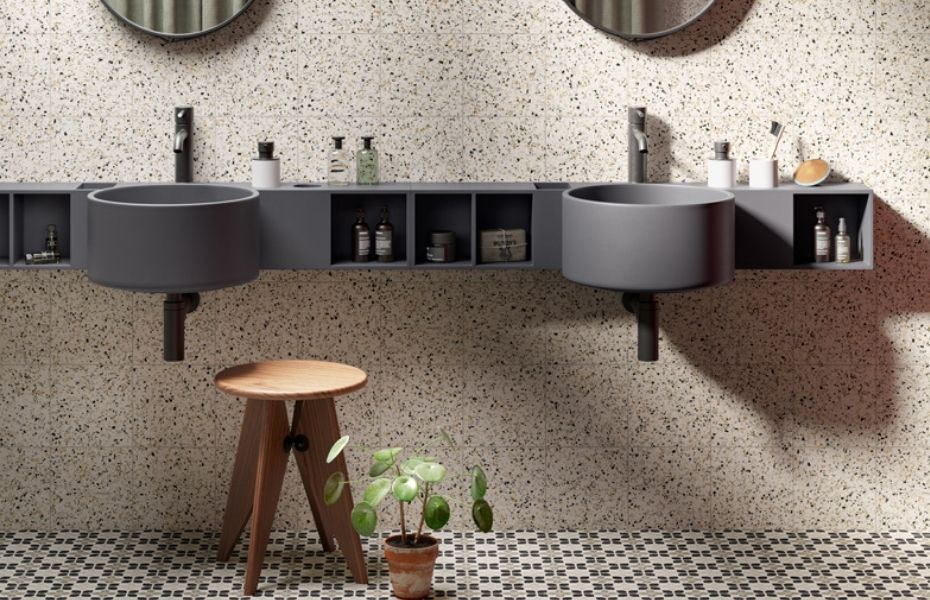 Design tiles has a range of terrazzo look tiles suitable for all kind of uses. Specially for making fancy and classic styling of your shower room, kitchen room, lounge room, outdoor area.
Terrazzo look are such a classic tiles, its interior designing will never go out of date or style. It has the similar features like real terrazzo tiles and is highly affordable in comparison to real terrazzo. Highly flexible for making different style through geometric patterns, can make your space more beautiful.
We have various terrazzo looks tiles and Fragment is one of the most latest product available in the market. The Fragment collection consists of a 200mm x 200mm authentic terrazzo look tile suitable for either floor or wall applications as well as a 75mm x 400mm subway shaped wall tile with a structured finish in a rich gloss glaze available in 8 on trend colours.
This stunning collection also features a suite of pattern feature tiles in the 200mm x 200mm size available in all colours to complete the authentic look. Made in Italy. Following are the few samples of terrazzo tiles.
There are several reason to choose terrazzo looks tile and some of them are:
Highly flexible for designing
Stays for longer duration
Cheaper than real terrazzo but with almost same feature
Suitable for renovation of space
The terrazzo look provides unexpected interest and texture to any outdoor patio, and its grip surface finish will make sure you stay on your feet.
Terrazzo look tiles for Kitchen

Sample of Terrazzo looks for Bathroom

Sample of Terrazzo look tiles for Floor and Walls
See new products which are in demand here.